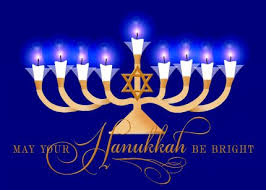 Hanukkah means dedication. The 25th day of Kislev to the 3rd of Tevet-(Dec. 24-Jan1). Celebrating Hanukkah and lighting the menorah every night is a fun and new tradition to most of us Christians. It is a time to remember that without Hanukkah we would not have Jesus!
The bible mentions Jesus on Hanukkah.
John 10:22 And it was at Jerusalem the feast of the dedication, and it was winter.
23) And Jesus walked in the temple in Solomon's porch.
Also called Festival of Lights.
It is a time when God prevailed over an enemy who would try to wipe out Israel.
For a quick overview of Hanukkah-
http://elshaddaiministries.us/pdf/the%20Festival%20of%20Lights.pdf
For traditions-
http://elshaddaiministries.us/pdf/Hanukkah%20Traditions.pdf
How to light the Menorah each night- http://www.chabad.org/holidays/chanukah/article_cdo/aid/103868/jewish/How-to-Light-the-Menorah.htm
Prayers and blessing to be recited each night-
http://www.hebrew4christians.com/Blessings/Holiday_Blessings/Chanukah_Blessings/chanukah_blessings.html