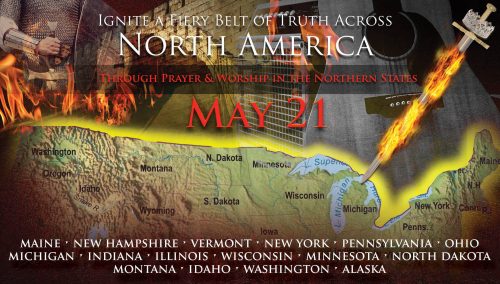 Join intercessors across the U.S. North Border as we . . .
Ignite a Fiery Belt of Truth Across North America
Through prayer and worship in the Northern States
Sunday, May 21 – 7 pm (your local time)
Congregations, prayer groups, families and individuals are called to
join "as one" to pray and worship our Lord Jesus Christ, the Living God.
On May 21 at 7 pm. (each state's local time) we will worship to establish a fiery wall of God's glory across the Northern
Border States from Maine to Alaska! As we worship our King from the east coast to the west we expect to see the
Holy Spirit establish a fiery belt of truth across North America.
James Nesbit will be leading worship in the state of New York and we will all join him and one another in worship
from our respective states. As prophetic worship flows from the east to the west across the North Border,
fresh revelation will change the atmosphere of this Nation!
The Lord has set His word in our atmosphere for Life and Awakening!
See His ruling sword ablaze in your state.
*Contact your state coordinator or one of the emails below if you will join the release of His sound across the north!!
Coordinators:
Randall Baker – New York HAPN/RPN – rbaker77@rochester.rr.com
Karen Krueger – Minnesota HAPN/RPN – karenk@calltothewall.org
North Border Conference Call: There is U.S. North Border Prayer Call every Thursday morning at 10 a.m. CST. This call began about
4 years ago to connect HAPN and RPN State Prayer Coordinators and their Teams across the north. The border that lies between the
U.S. and Canada is over 4,000 miles long and considered the most vulnerable international border in the world. It has historically has
been a peaceful border but we know that we are called to watch over our borders proclaiming that there is "No King but Jesus!" as our highest homeland security strategy!! We invite you to join us on the call each week.
Call 712-770-4117 and the code is 270768#
Date: May 21st, 2017
Time: 7:00 pm
Location:Information coming soon!