Awake Minnesota
Jan 21-23, 2010
Cindy Jacobs, Chuck Pierce
Cindy Jacobs – And the Lord says,  I am going to give MN the almond rod.  The rod that will blossom.  The Lord says, watch and see what I am going to do.  For I am going to put a rod of authority, a governmental rod, in your hand and I am going to use you to help change things in this nation.  Watch and see what i will do, says God.  For the Lord says, it is a season of change.  It is a season of transitions, says the Lord.  And I am getting ready to change everything.
Cindy Jacobs – And I would say to you, this will be the time where you sit at the division of a nation.  For I have put you here saith the Lord, to determine which way a nation will blossom.  I say watch the eyes begin to shift towards MN now.  Watch how I'm shifting and watch how you begin to guard a nation, rearrange your government, and set a new government in place.  You will be the dividing rod of this lad, saith the Lord.
Cindy Jacobs – And the Lord would say, there is even a civilization jihad at your door.  And many are asleep and do not understand what Islam is trying to do.  but I would say, MN, I am giving you the opportunity to turn the nation.  You can turn the tide.  And the Lord says, I'm getting ready to expose, expose, expose.  Things are going to be exposed governmentally that have been planned.  And I will even pull pull up that mafia root of corruption, says God.  And I'm getting ready to expose those roots that are written.  And I am going to put in a fresh planting of the law that is going to bring a great harvest, says God.
Chuck Pierce – The Lord says, in this nation there will be a dissolving of parties.  I will begin to do such a work that pits parties against each other that they will begin to dissolve.  And there will be a new independent grassroots movement that rises up in days ahead.  And I say, from MN, you will be leading in the grassroots change of a nation.
Chuck Pierce – let me interpret the tongue that Paul Anderson gave – And the Lord would say to you, I have a rope that's been hidden in this area.  And I say, it's a rope that's still linked with the exploration that I'm calling this people to.  I say, you will begin to uncover this rope and it will begin to be a rope of hope for the people of MN and for a nation that now will enter into a new adventure, saith the Lord.  I say to you, this rope of hope will be like a firing gun that begins to take out that which would stop the progress of this nation.  I say to you, get ready for it will be uncovered in MN what was hidden even from the explorers time.
Thursday evening
Cindy Jacobs
Word from Deb company by Cindy Jacobs in July 2009:   MN you are what I would call a "hinge of history" – a hinge is a strategic moment, when a door of opportunity opens that releases the destiny of God for a generation.  This strategic moment causes an awakening to purpose and an awakening to destiny for whole cities, states and nations.  
Minnesota you are to start an awakening and reformation!   You are a state that is called to awaken the rest of America.  I am giving you an anointing to be a voice crying in the wilderness – prepare the way of the Lord.
And the Lord says, I'm going to bring my most anointed people here.  
For I have called you and I say that you are the "eye" of the Body of Christ.  
I have given you a seer anointing to peer into the future.  This is who you are.  Wake up to who you are.
Chuck Pierce
I say to you the fire is upon the waters of this particular state.  And I say that I will begin to move for My voice has been released upon the waters of this state and you will be able to change the way the course of this nation drinks in the days ahead.  
I say to you there will be break out fire movements around the lakes of this state.  
For this will be a state that moves out of the church structure and into the fire of community.
 I say that I am raising up now a sound that is coming down from this state that will flow down and across this land.  It will be a sound that first separates, then it will be a sound that re-creates, and then it will be a sound that rushes, and I say the enemy that has been entrenched will be washed away from the power that has been holding it in place.  
I say from this headwaters state I will move to the East, I will move to the West, and I will go south, and I will create a jack-hammer that breaks up the hard ground of America.
Chuck Pierce
Began to describe the picture God had given him of Minnesota.  He said Minnesota is the only state that had 3 colors.  The top was gray like it had a dark veil over it.  He said, watch the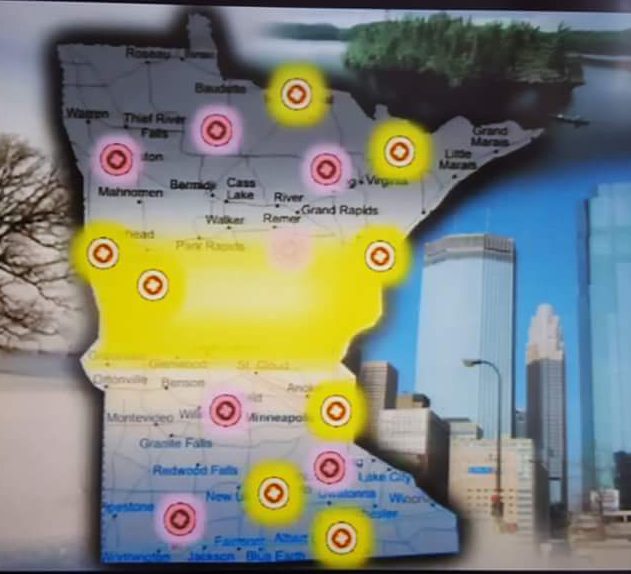 borders.  The middle was yellow which signified it is filled with His glory.  The south was dark blue which represents compromise (this compromise has occurred over and over again because of the spirit of intimidation that operates here).  What happens in the south will determine what flows into other states.  BUT, IT WILL SHIFT because of the glory that is in this state.  God said what you see in this season you will say and it will manifest.  Chuck shared about the 8 Freedom Outpost cities in Minnesota, and told us to study Isaiah. 55.