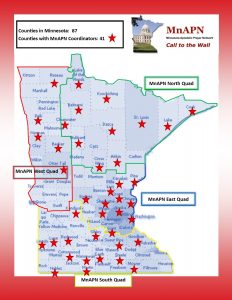 MnAPN County Coordinators

Minnesota, with 87 Counties and 11 Reservations, is a very diverse state both geographically and culturally.  In order to connect with intercessors in every area of our state we have divided it into 4 parts with a Leader appointed to each section.
Each of these four sections we will call Quads:
Southern Quad noted for it's rich farmland
Western Quad of the Red River Valley
Northern Quad known as the Arrowhead Region
East Central Quad which includes Twin Cities metro and surrounding area.
We are continuing to build a network of county coordinators in each county in Minnesota, so names will be added periodically as we fill those positions.
Click Here to contact your county coordinator!
North Quad Region Leader – Erick Rantala
16 Counties
Aitken County –
Beltrami County – Erick Rantala
Cass –
Carlton County –
Clearwater County – Judy Kretzschmar
Cook County – Lisa Bloomquist
Crow Wing County –
Hubbard County – Arla & Bill Wright
Itasca County – Terri Nelson, Ladonna Engebretson & Sue Allen
Kittson –
Koochiching County – Jennie Christopherson
Lake County – Dan & Kristin Walch
Lake of the Woods County – Sue Jochim
Roseau – Linda & Fred Vacanti
St. Louis County – Dan & Kristin Walch
Wadena County –
South Quad Region Leaders –Sally Kassuelke & Ruth Schueler
34 Counties
Blue Earth County – Phil Hess
Brown County –
Chippewa County –
Cottonwood County – Cheryl Dick
Douglas County –
Faribault County –
Fillmore County –
Freeborn County – Karen & Charles Johnsrud
Goodhue County – Laurie Soule
Houston County –
Jackson County –
Kandiyohi County – Mike & Stacey O'Brien, Mike & Jeanne Kroeker, Debra Ostlund
LeSueur County
Lincoln County –
Lyon County –
Lac Qui Parle County –
Martin County – Ruth Schueler
Mower County –
Murray County – Linda Lund
Nicollet County –
Nobles County – Nancy Cook
Olmsted County – Les Homan
Pipestone County –
Redwood County – Carol Mattison & Lois Wetter
Renville County –
Rice County – Jeff Dixon
Rock County –
Sibley County – Kris Langworthy
Steele County – Ryan & Pam Kubat
Wabasha County –
Waseca County –
Winona County –
Wantonwan County – Marilyn Stoesz
Yellow Medicine County –
East Quad Region co-Leaders – Edwin & Sue Ohmann
20 Counties
Anoka County – Patty Anderson
Benton County –
Carver County –
Chisago County – Pat Moulton
Dakota County – Linda Peseka
Hennepin County – Lisa Doyle
Isanti County – Stephanie Bushway
Kanabec County –
Meeker County –
McCleod County –
Mille Lacs County – Bonnie Zurek
Morrison County –
Pine County – Sue & Dewey Olson
Ramsey County – Laura Solberg
Scott County – Bob Schmitz
Sherburn County –
Stearns County – Lou Schweitzers
Todd County –
Washington County – Lori Perz
Wright County – Jewels Welker / Laura Horstman
West Quad Region Leader – Brad Sunde
17 Counties
Becker County –
Big Stone County –
Clay County –
Douglas County –
Grant County –
Marshall County –
Mahnomen County –
Norman County – Sonja & Craig Andersen
Ottertail County – Brad & Carol Sunde
Pennington County –
Polk County – Carlotta Humiston & Patty Amiot
Pope County –
Red Lake County –
Stevens County –
Swift County –
Traverse County –
Wilken County –
Following photos from Jubilee Leadership Meeting – November 2015