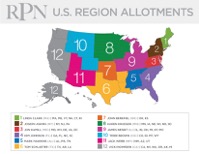 Region 8
Where did Region 8 begin?
The Reformation Prayer Network is a prayer movement for igniting a holy reformation in every sphere of society. RPN is building a network in all fifty states of the United States for each of the seven mountains and also among local churches, children, youth, and intercessory worshipers. RPN and Generals International identify each state and have a state General who leads large groups of intercessors throughout the states to pray as one.


Why a Region?
The Minnesota Prayer Network is linked to both HAPN and RPN as National Prayer Networks. Just as the state of Minnesota is broken into 4 regions (North, South, East and West) to help us communicate & coordinate prayer, the United States has been broken up into 12 Regions to help us communicate & coordinate prayer.  
What states are in Region 8? 
Regional General / Regional Coordinator
Karen Krueger, Minnesota Apostolic Prayer Network & Call to the Wall www.calltothewall.org 
North Dakota
Barbara Becker, North Dakota Coordinator with HAPN
Deb Ruhland, North Dakota Coordinator with HAPN
Darla DesLauriers, North Dakota General with RPN, Harvest House of Prayer – Minot, ND 

South Dakota
Betsy Moeller, South Dakota General with HAPN & RPN, South Dakota Prayer Network & Calling Nations Ministries www.callingnations.org and on Facebook
On Bended Knee Documentary Promo Coming Soon – Go Fund me link here 

Minnesota
Karen Krueger, Minnesota General with HAPN & RPN, Minnesota Apostolic Prayer Network & Call to the Wall www.calltothewall.org

Iowa
Karen Blomgren, Iowa General with HAPN & RPN; Fire on the Altar Ministries 

Nebraska
Linelle Kelley, Nebraska Co-General with HAPN & RPN;  Nebraska Apostolic Prayer Network
Bonnie Gangstad, Nebraska Co-General with HAPN & RPN;  Nebraska Apostolic Prayer Network

Wisconsin
Dolean Norton, Wisconsin General with RPN
---