Word to Minnesota
July 2001
Cindy Jacobs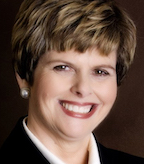 I was led to focus on Hab. 1:5 "Look among the nations and watch. Be utterly astonished, for I will work a work in your day which you would not believe, though it were told you." Now the context of this passage is actually about judgment, but I believe it is not stretching the Word of God to say that God wants to do a work in this nation, which will astonish the nations. And part of the prophetic word the Holy Spirit is speaking to me is that the visitation of God is going to come to Minnesota. In the tremendous move of the Holy Spirit coming, it will be like what was seen in the Jesus People day. There's going to be a sweeping impact that's going to touch the government. You're in transition right now. God is in a time of shifting and changing things in this state for His glory.
And I will say to you, I believe with all my heart that Minnesota will be one of the first states to vote against abortion at a state level. And God is going to use this state to change the nation.
"Look among the nations and watch and be utterly astonished." You are a city sitting on a hill, and you will see God move. There will be many fires of revival going on in this little town and that little town. And I want to prophesy across the north of Minnesota: there's going to be a sweeping move of the Holy Spirit that comes to the North. City after city after city will be touched by the presence of the living God.
This visitation will not be like times we've had in the past, because some of those visitations were messy and people were hurt through them. But this time it's not going to be like that because this is not going to be a "fatherless" visitation. It's going to be a visitation of the Holy Spirit where people are going to love God and love authority and it's going to be good authority; the authority will walk in humility. So, the Holy Spirit is going to cause leaders to arise that will influence government (Daniels) and business (Josephs) and the media. Minnesota will be known for a business persons revival – you're going to see CEO' s of companies where God visits top corporations and top families. Many will be swept into the Kingdom.
Minnesota has a gift of giving and a gift of evangelism, and so you will see that the poor will be fed, and the widows will be taken care of, and God will use this as a model.
There's going to be revival among the youth. God has marked youth for this time and season. Not only to change this city, but to change this nation. The young people are revolutionaries – young men and women that God wants to use. There is going to be revival in the high schools of Minnesota, not just Minneapolis – young firebrands that love God, that pray, that are passionate. Many, many young people will come to the Lord until the stadiums are full of youth here in Minnesota, worshiping God and proclaiming God. It will affect Wisconsin and all the areas around. There will be a call upon the youth to answer the call of God and go to the nations.
God will do a work in the women and many women will be raised up and God will use them in a very, very special way through this intercession movement and as watchmen on the wall. There's going to be a move of the Holy Spirit that people will say, "look among the nations and be astonished."
Some of your children who are prodigals, God is going to shake up. God is going to visit them. Maybe you've been praying a long time for a son or daughter or father or brother. The Holy Spirit will move in dramatic ways upon these people's lives. Some of you have wept and fasted and prayed, and you haven't seen a change. But you will see it change. This is the day of household salvations. Some of you have heavy hearts. I want to tell you, god is faithful. You will see your household come to the Lord.
Also, the Lord is going to move in a prayer movement here. You're going to see watchmen on the wall. Many people will come to pray from around the world. This will be a place of reconciliation where people from the nations come, red, and yellow, brown. You're going to see a children's prayer revival. You're going to see 6 year olds getting on their faces and crying out to God. This is a hallmark of revival.
The Lord showed me that many have been going through almost a Job experience. You are going through difficult, difficult times. You've had financial loss and things have happened to you that you don't understand. Well, you're going to come out of that time and God is going to bring great blessing to you. Some of you have lost everything, but remember the end of Job's days, he got back double and you're going to do that.
Hab. 2:4 "Behold the proud, his soul is not upright in him, but the just shall live by faith".
God is bringing the Body of Christ into a new season of brokenness. I don't know about you, but God is speaking to me and I need to have a contrite heart, to be broken before Him. You know pride is kind of like bad breath, you're the last one to know that you have it. But God is very creative in how He shows you that you have this problem. Even though it seems like you may be going through a crushing time, I want to assure you that you will live through it. Out of that brokenness will come a sweet perfume. A hallmark of this move and visitation of the Holy Spirit will be humility. And so allow God to do that work and trust that He's going to bring you through to a new day.
Many of us are in some kind of transition in our lives. The church is in transition. My pastor, Dutch Sheets, told me he got the revelation that he's probably always going to be in transition and he has to work, not to be depressed about it. We're always going from glory to glory aren't we? God is doing a new thing. Behold! I will do a new thing and now it shall begin. I'm going to make a way in the wilderness and rivers in your desert. The river of God will flow and is flowing – there's another Jesus People Movement coming – a double portion.
I want to tell you when God does something it doesn't always look like you think it should look. I mean this one might have kids with green hair, piercings and tattoos. You could abort this move if you are critical. Be welcoming of whatever God does.
Hab. 3:19 is a shigaionoth, a musical notation indicating a song to be sung with emotion and victory. In this move there's going to be a new sound and many from around the world will be singing the new worship songs that will be written. Where is that music coming from? Minnesota!
The whole of chapter 3 is a prophetic song. "The earth shall be full of the glory of the Lord." The nation was coming under judgment, but at the end the prophet says, "Though the fig trees do not blossom, nor fruit be on the vines, the produce of the olive fail and the fields yield no food, the flock be cut off from the fold and there be no herd in the stalls, yet I will rejoice in the Lord, I will joy in the God of my salvation. God, the Lord, is my strength; he makes my feet like hinds' feet, He makes me tread upon my high places."
Hab. 3:17- 19 If you are in the valley of despair, when you feel discouraged and your life may be over, and you feel like there is no hope, I want to say to you today, it is God, Himself who draws you near. Jesus is the hope of the world.