Prophetic Vision About the United States
"The Fire of God"
Young man named Sergio
Honduras
January 30, 2015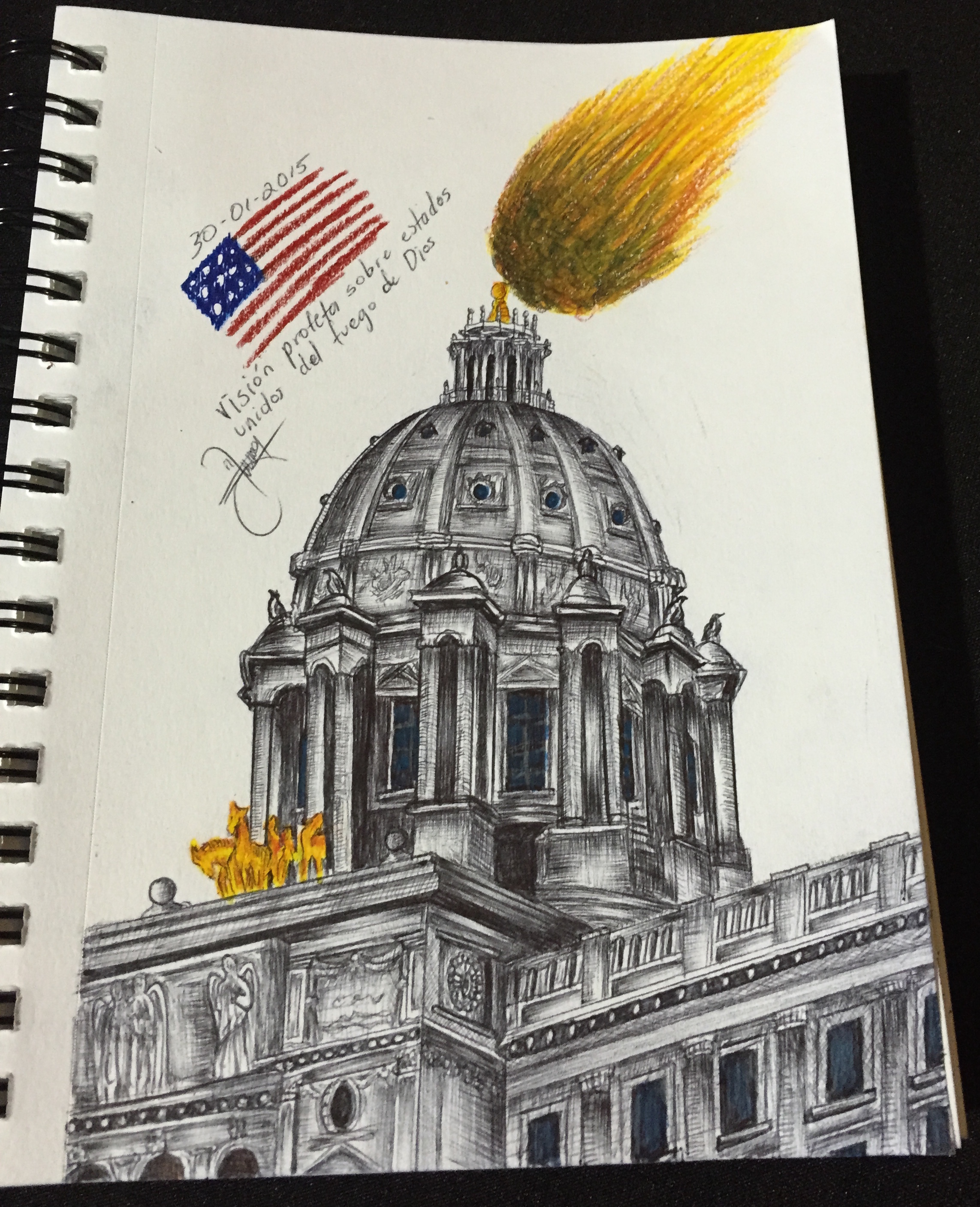 Prophetic Vision About the United States – "The Fire of God"
On January 30, 2015 a group of about 200 Spirit-filled young adults from Central America, South America, and the United States were worshipping the LORD at an intensive prophetic training conference in Honduras. During worship a young man from Honduras named Sergio received a vision of a type of "capitol building" in the United States. He "saw" a "fireball" coming toward the top of this government building, though the "fireball " had not yet hit the building. At the top of the building was a large dome with a "gold" object at the peak of the dome, and "gold" statues near the base of the dome. The young man described the "fireball" as the "Fire of God."
Sergio and his wife Melissa run a Youth With A Mission (YWAM) base in Honduras. As he described the vision to his wife, she thought the building could be the U.S. Capitol. She used her phone to find a picture of the U.S. Capitol Building, but he said that it was not the building that he saw in the vision. As Sergio described the building further to his wife who is from Minnesota, she thought the building sounded like the Minnesota State Capitol. She pulled up a picture of this building on her phone, and Sergio said that the Minnesota State Capitol Building was the government building in his vision. Sergio has never visited Minnesota. Sergio then used his artistic ability to draw the vision in a sketchbook while referring to the picture of Minnesota's State Capitol Building on his wife Melissa's phone.
Background Information
A group of six young adults from Minnesota attended the "Epi Conference" in Honduras in January 2015. Pastors Bob and Susan Rampi, a married couple who live in the Twin Cities, have served as spiritual mentors to some of the young adults from Minnesota who attended this conference. Karin (Johnson) Basinger was one of the people who attended the Epi Conference. Karen is a member of a Bob and Susan Rampi's home group in the Twin Cities. The photo of the drawing depicting the vision is stored on Karin's cell phone. Karin's mother, Robin Johnson, lives in Alexandria, MN. Robin made the copies of the photo to share with Christian leaders in Minnesota for their prayerful discernment believing that the vision has importance at this time.