Karen Krueger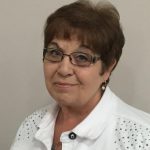 Karen Krueger lives together with her husband John, in Cambridge, Minnesota, 45 miles north of the Twin Cities. They have 3 grown children and 4 grandsons. Karen attended the University of Minnesota and later Spiritual Life School of Ministry in Brooklyn Center, MN and graduated in 1996.   She was licensed in ministry in 2003 at Chadashchay Christian Ministry Center. Karen has also been a private piano teacher for the past 30 years and taught the music program at Cambridge Christian School for several years. She loves teaching children their potential in music because it is a gift that God has given them.
Karen is the founder of 'Call to the Wall' (Mobilizing Kingdom Prayer) based on Nehemiah 4:19-20: "The work is vast and extensive and we are far apart from one another on the Wall. When you hear the sound of the trumpet rally to us there and our God will fight for us."
"In the early 1980's I was born again and Spirit filled through the ministry of Aglow.  I began to serve on the Aglow worship team and eventually other Aglow leadership roles. In that place of a strong worship focus I discovered my call as a worshipping prayer warrior and developed a growing passion for intercession. "
Karen served as Central Minnesota Area Aglow President (1992-2001) and then as the Minnesota Aglow State Prayer Coordinator (2001 – 2006)  From 2003 – 2007 she began to serve as the Minnesota Mobilization Coordinator for U.S. Global Apostolic Prayer Network under the national oversight of Chuck Pierce and the state oversight of Rick Heeren.  In 2007 she founded Call to the Wall and has served as president since that time.
Karen is currently the Minnesota State Apostolic Coordinator for the United States Reformation Prayer Network (USRPN) under the direction of Apostles Mike and Cindy Jacobs and also for the Heartland Apostolic Prayer Network (HAPN) under the direction of Apostle John Benefiel. In 2010 she was formally commissioned as an Apostle in Minnesota and for the National Prayer Networks. In 2012 she was commissioned as an Apostle/General with Generals International. Karen has additionally been serving since 2008 as the Regional Coordinator for North Central Region 8 of the USRPN and HAPN serving Nebraska, Iowa, Wisconsin, North Dakota, South Dakota and Minnesota.