Chuck Pierce presents Regional Mantle at Plow Conference – Minnesota
Chuck Pierce & Dutch Sheets
August 15, 2019
Thursday evening session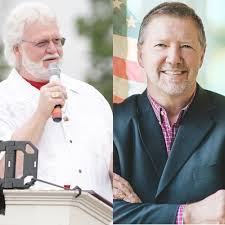 Chuck Pierce
Now this represents the team, it represents the leadership
It represents what the Lord is doing to recommission us.
I have this Mantle representing our new identity here – made on your behalf
And it has the infinity symbol.
Because the Lord says "This region must go beyond."
Decree right now "Beyond"
I see God saying this to this region.
And all of you know your role in this region.
Lord we decree right now – Anything that has been decreed in the past now is going to go beyond and go deeper.
I see this Mantle going . . . "Somebody's got to go to this Plough Festival up north because it's what the whole year's about"
You need to be sending people.
Somebody needs to go across the middle of this state. This mantel that has to go beyond.
It has to go to every one of the states in this region.
The sound that is in this region must come beyond
That means that it has to have the sound of the first people penetrating up through the aligned generation that have occurred to now.
Father we thank you that the Midwest plains region is now beginning to go beyond where it has ever been before.
I decree that you will go North, South, East and West and secure these boundaries.
You'll worship in every state.
You will decree throughout this state darkness must let go and what has become hardened, what has become encapsulated . . .
We say now there's a cutting loose in Jesus Name.
Now let's leave a shout up in the Heavens and into the atmosphere
Just loose that shout.
We call forth the remnant seed of this region and we say
Spring forth . . . Spring forth . . . Spring forth
Spring forth . . . the remnant seed throughout this region
Spring forth . . . Spring forth . . . Spring forth
I loose the new wind of strength In every one of the remnant people of this region
And I say "decree now that this region will come into it's great harvest."
Let's give one more shout up in the heavens.
Chuck
You go up to that plough festival up north
because this nation is about to be turned upside down.
Dutch Sheets
The Lord says to those of you here – the remnant – Well Done!
He is pleased with your faithfulness and your diligence
The fact that you just keep believing for revival and awakening
And leaders in times when it has been somewhat dry & difficult
You just keep plowing, you keep decreeing, you keep preaching and you keep worshipping
And the Lord says "Well done" !
He's please with you.