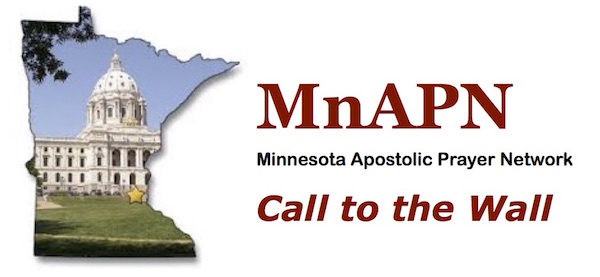 Find out how to be involved with a network of intercessors throughout Minnesota.
Get connected on the statewide Minnesota Prayer Network email list and receive information and prayer alerts throughout the year.
Get acquainted with other prayer warriors and see our prayers turn this state and nation toward the Lord.
Minnesota Apostolic Prayer Network

Call to the Wall (CTTW)
How to get involved . . . 
Join Call to the Wall (CTTW) email contact list and you will receive
Monthly Mailings
State and National Prayer Alerts
Event Notices
Prayer Initiatives w/prayer points
To join and receive notices Click Here!
Karen Krueger – Mn State Apostolic Coordinator
Kris Jacobson –  Mn State Mobilization Coordinator
Connect with Minnesota Prayer Network/Facebook group
Go to the Minnesota Apostolic Prayer Network Facebook page and request to join
You will be able to post prayer requests in this group
This Facebook group now has over 1000 members.
Connect with U S Reformation Prayer Network (USRPN)
Apostles Cindy & Mike Jacobs – url: www.generals.org
Read current Reformation Prayer Network postings
This nation is moving toward a goal of 500,000 Intercessors
Have access to prayer alerts along with all 50 states.
Have the opportunity to pray in agreement with the nation.
Excellent Video teachings posted on this site.
Connect with Heartland Apostolic Prayer Network (HAPN)
Apostle John Benefiel – url: www.hapn.us
Excellent video teachings in the media section of this website
Map to locate State Coordinators
Receive prayer alerts and postings
Any Questions – contact us at  calltothewall@calltothewall.org
Be sure to visit our new website at:   www.calltothewall.org
(rev. 6/5/16)